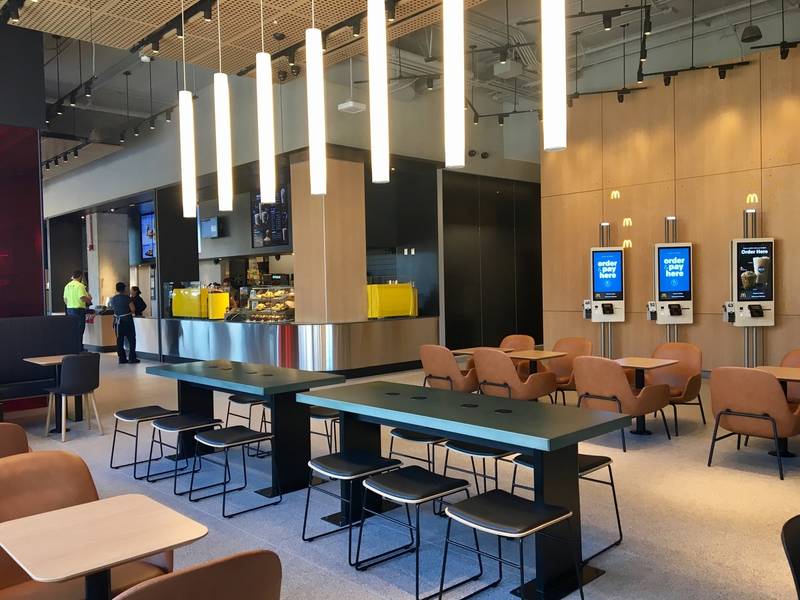 Aircharge powers new McDonald's 'Experience of the Future' HQ restaurant
McDonald's, the world's largest restaurant chain by revenue serving over 70 million customers daily in over 100 countries, continuously invests in technological and digital advancements in order to keep up with customers' expectations, enhance the restaurant experience and improve efficiency.
Focus on Technologies to Drive Sales
Introducing a new modernised look and with touch-screen and mobile ordering, table service, home delivery and wireless charging, McDonald's goal is to deliver a more seamless, personable and enjoyable customer experience translating into more frequent visits and higher average spend per customer.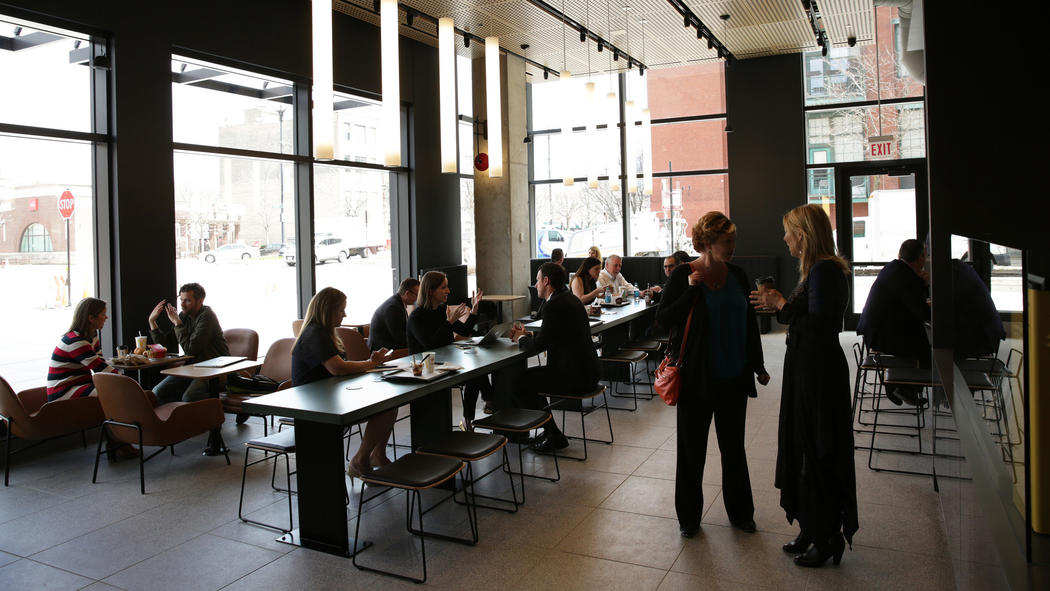 Worldwide Convention 2018
As a specified supplier to McDonald's, Aircharge was invited to demonstrate its industry-leading wireless charging solutions for public spaces at the McDonald's Worldwide Convention. Taking place at Orange County Convention Centre, Orlando, from 16th to 19th April 2018, the conference was attended by over 15,000 restaurant owners, franchisees and VIPs from McDonald's Corporation worldwide as an opportunity to review their recent successes, share future plans and display the latest products, technologies and services. Aircharge also provided over 120 wireless charging points across the floor registering over 20,000 interactions in 4 days.
New HQ Restaurant of the Future
Preceding the opening of the new Global Headquarters in Chicago Downtown, McDonald's unveiled its new flagship restaurant on April 25th 2018. The 6,000-square-foot restaurant is part of McDonald's Experience of the Future (EOTF) makeover and features modern global-inspired interiors, an ever-changing wall map with Golden Arches that illuminate when an item from a specific country is featured on the menu, enhanced customer experiences with table service, mobile order and payment, McDelivery with Uber Eats and wireless charging from Aircharge. Aircharge installed a total of 25 surface wireless chargers on communal tables, providing complimentary charging facilities to all customers dining at the new restaurant.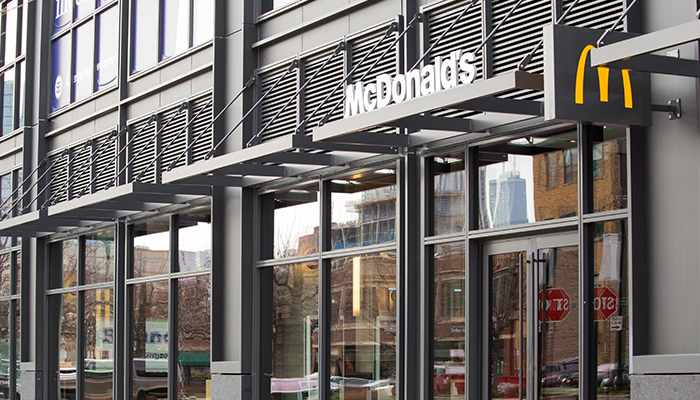 Wireless Charging in McDonald's
McDonald's approached Aircharge in 2015 with a view to becoming the first fast food chain to introduce wireless charging to its offering and allow customers to top-up their phones at their tables without having to plug them in or bring a cable/accessory with them to the venue.
Following a successful initial market test in the UK, Aircharge is now part of McDonald's EOTF upgrade rolling out across 15 countries and currently present in over 450 restaurants globally. McDonald's plans to transform the majority of U.S. restaurants to Experience of the Future by 2020.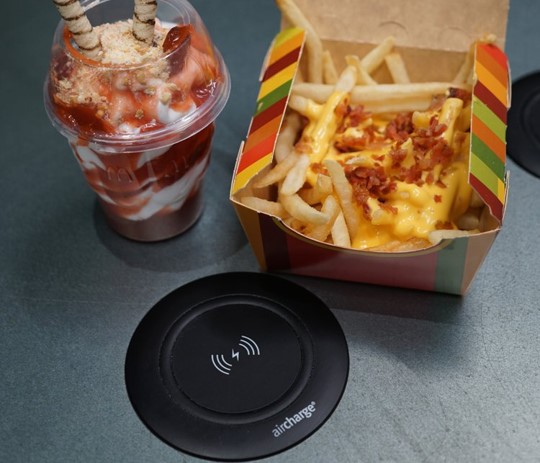 Perfect Solution for Restaurant Chains
Offering a solution specifically manufactured for industrial use – perfect for a public environment like a restaurant, Aircharge supplies McDonald's its surface wireless charging technology complete with the Orb adaptor, the World's first and only 'Made For iPhone' certified multi head connector with micro-USB, Lightning and USB Type-C connectors to charge non-Qi devices.
Aircharge provides McDonald's full support throughout the implementation process, including layout design, installation, staff training and in-store maintenance services.
The Aircharge solution perfectly integrates with McDonald's various types of décor, installed in communal tables, sit-up bars and benches.
Aircharge offers McDonald's full access to its data monitoring platform, analysing usage in real time.
Aircharge currently registers a total of 2 million monthly interactions across its entire estate, delivering additional value to users, while also benefiting partners' operation in terms of footfall, repeated visits and additional revenue per customer.