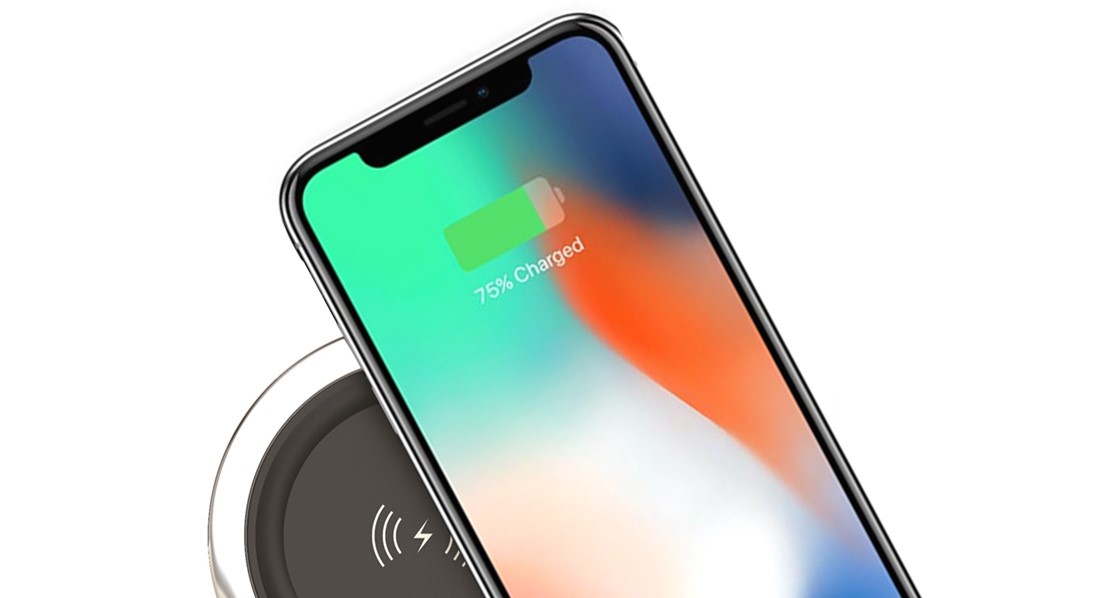 Here's how the wireless charging feature works on the new iPhone 8, iPhone 8 Plus and iPhone X
Sep 18, 2017
Wireless charging has finally debuted in the long-awaited 10th anniversary iPhone X, alongside the iPhone 8 and iPhone 8 Plus
HOW DOES IT WORK?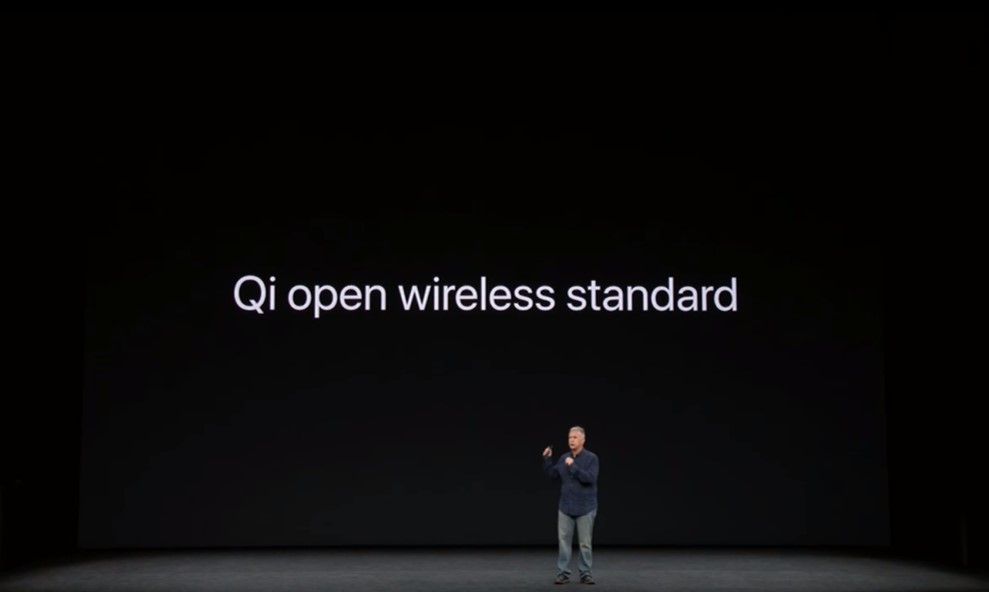 The new iPhone X, 8 and 8 Plus models utilise the universal standard for wireless charging 'Qi' (pronounced "chee"). The technology is commonly referred to as inductive charging and involves two coils, one in the device you are charging and one in the charger on which you place the device, passing electricity when placed next to each other by creating an electromagnetic field.
This means no more plugging the lightning cable in and instead simply laying the iPhone X, 8 and 8 Plus on a compatible Qi charger to fill the battery up.
ONE FITS ALL
Qi wireless charging can power anything from smartphones, tablets and smartwatches to electric toothbrushes, power tools and kitchen appliances.  There are already more than 90 certified models of smartphones, 60 models of cars and 900+ wireless charging accessories available on the market which utilise Qi technology.
Being a universal standard means you can charge the iPhone X, 8 and 8 Plus models on any Qi wireless charger.
Other smartphones that currently support wireless charging include the Samsung Galaxy range from the S6 and Note 5 to the most recent, the latest Motorola, LG, Nokia and Blackberry models. Check compatibility here.
Aircharge offers a full range of wireless chargers for the home and the office. Please check full details here…
IS IT SAFE?
It is actually safer than plugging the iPhone into the mains. Wireless charging operates over a very short distance and transmits power without contact to exposed electrical connectors, reducing the risk of failure or the possibility of electric shocks.
IS IT EFFICIENT?
The latest Qi-certified chargers are on par with traditional wired solutions. Wireless charging also avoids the problem of connector fatigue or failure.
During the iPhone X, iPhone 8 and iPhone 8 Plus announcement, Apple clearly stated compatibility with 'certified' Qi-chargers. Qi Certified wireless chargers have been tested to verify that they perfectly work with your iPhone and don't induce voltages that can potentially damage your phone. Beware of misleading claims like "Qi compatible", "Qi compliant", "Qi approved", "Works with Qi", "Compatible with the Qi standard", "According to the Qi standard".
All Aircharge products for iPhone are Qi and Made for iPhone certified.
WHAT ARE THE BENEFITS?
Wireless charging adds the convenience of charging at home, in the car, at the office and on the go without having to carry a cable with you.
The world's largest wireless charging ecosystem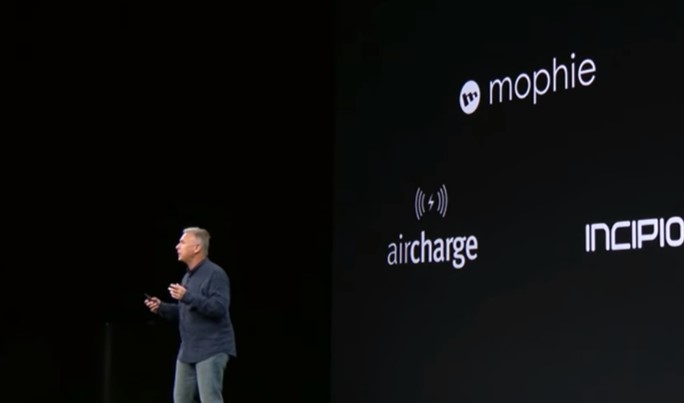 At the Apple event in Cupertino, Apple showcased Aircharge as a strategic wireless charging partner to charge the iPhone X, iPhone 8 and iPhone 8 Plus in public venues.
Aircharge is the global leader in wireless charging solutions for public venues, the office and home, bringing Qi wireless charging to public locations to power up your iPhone throughout your daily routine.
There are already nearly 5,000 Qi wireless charging locations including coffee shops, restaurant chains, airports, train stations, hotels and retail stores where you can get instant, free power.
Simply download the Aircharge app to navigate to the closest location.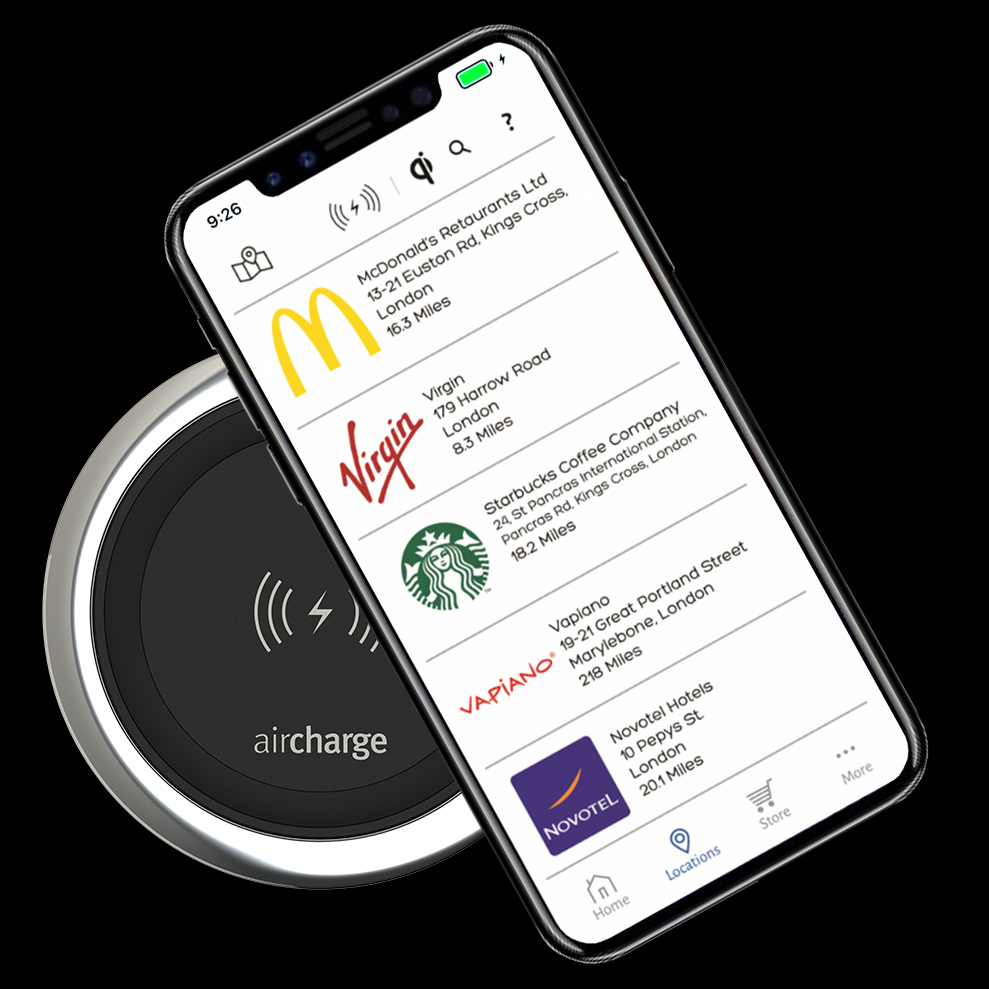 Charge while dining
Aircharge has deployed Qi wireless charging in globally renowned brands like McDonald's, Starbucks, YO! Sushi, Costa Coffee and Vapiano, allowing you to power-up your iPhone X, 8 and 8 Plus wirelessly whilst enjoying a meal or refreshment.  McDonald's, the largest provider to date, currently include the service at more than 400 UK stores and has begun deployment in 14 more regions.
Always at 100% when travelling
Leave cables and adaptors at home when travelling. Aircharge provides wireless charging at travel lounges including Virgin Atlantic Clubhouses in Heathrow and Gatwick airports, Emirates Lounges in Dubai International and Finnair Lounges in Helsinki-Vantaa. Eurostar offers Aircharge wireless charging in the Business Premier Lounges at London St. Pancras International and Paris Gare du Nord. Virgin Trains has deployed in First Class lounges along the East and West coast routes in the UK. Hotels offering Aircharge include Premier Inn, IBIS and Novotel to name just a few.
Shop with a full battery
Aircharge is also available in major mobile phone stores, including Vodafone, O2 and EE, as a complimentary service when visiting their retail stores.
ADD WIRELESS CHARGING TO YOUR CURRENT iPHONE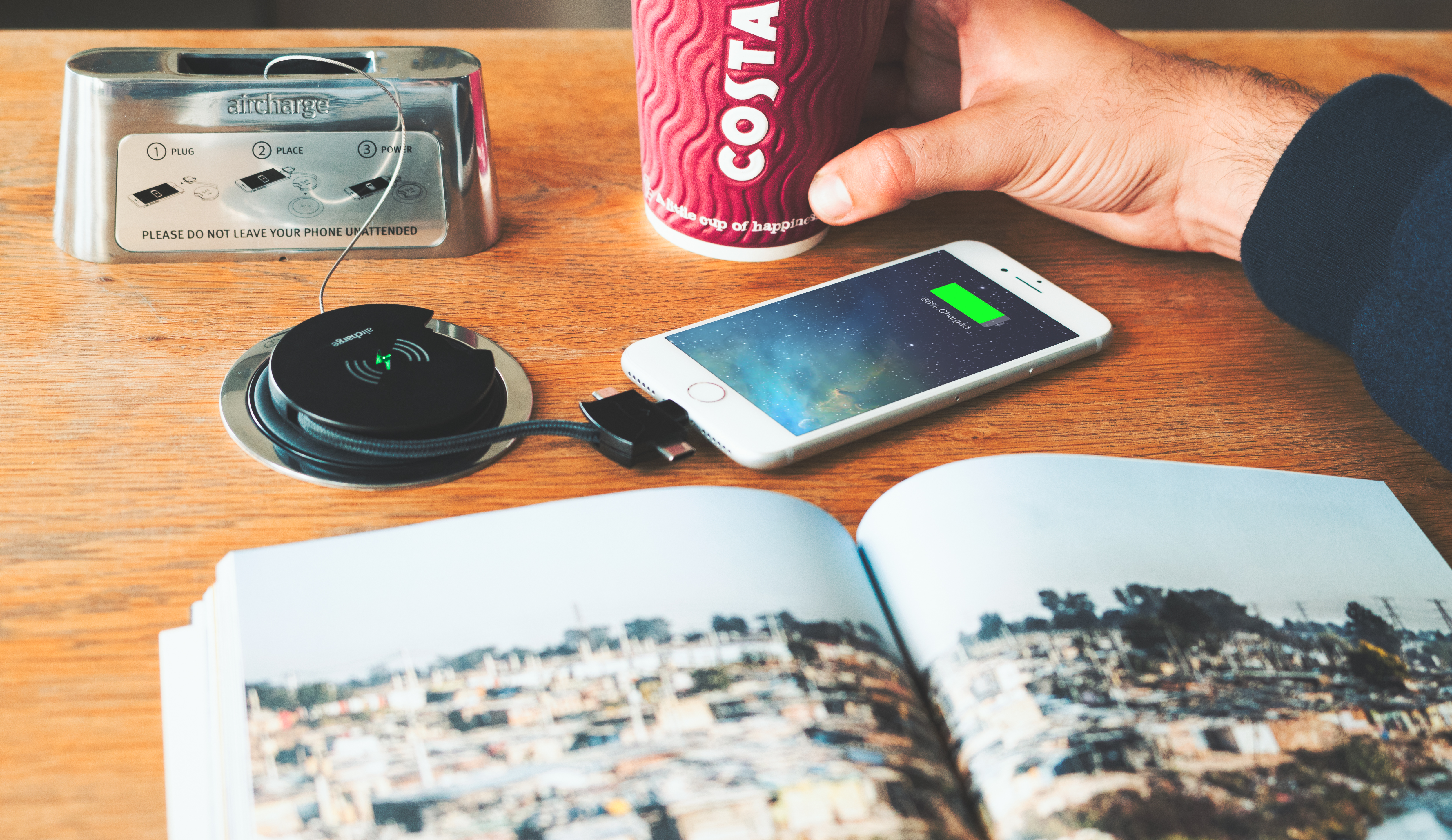 In public venues you'll find the Aircharge 'Orb', the world's first and only multi-head connector carrying both the Qi and Made for iPhone (MFi) certifications which allows any Lightning, Micro-USB and USB Type-C devices to charge from the charging unit. Simply plug the Lightning adaptor into your iPhone and place the Orb on the charger to top up your battery.
Aircharge MFi wireless charging case for iPhone 7 / 7 Plus / 6s / 6s Plus / 6 / 6 Plus / SE / 5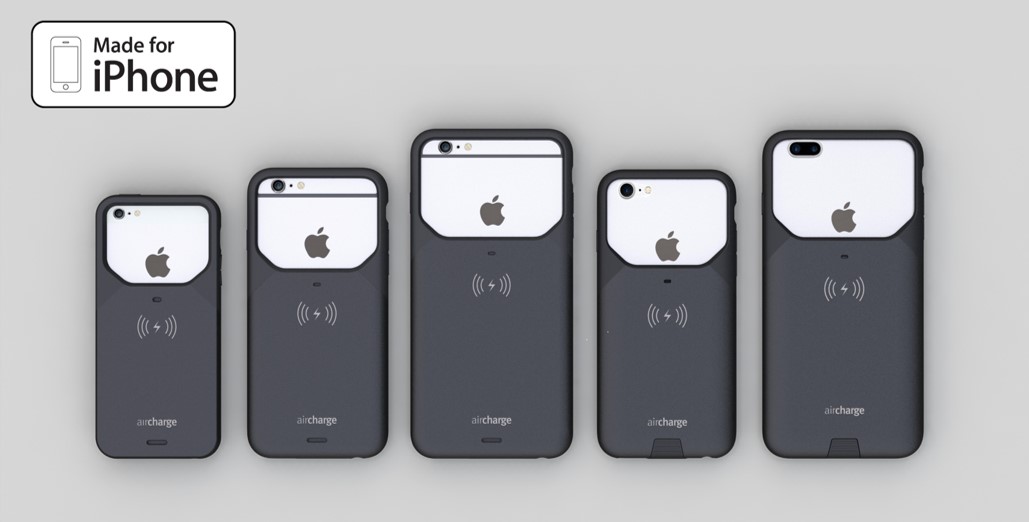 You can also achieve the wireless charging feature of the iPhone X, 8 and 8 Plus in your current iPhone by adding the Aircharge 'Made for iPhone' wireless charging case. Simply insert the iPhone into the case to be able to charge it wirelessly.