Forward-thinking chain Roxy Cinema's, recognized as a pioneer in an industry that values service and customer experience, has just opened its 5th venue in the city featuring over 260 Aircharge wireless charging units for VIP guests to enjoy, located in the Al Khawaneej Walk neighbourhood Mall.
Brand: Roxy Cinemas
Location: Al Khawaneej, Dubai
Installation: September 2020
Product: Aircharge Gorilla Glass Surface Charger
No. of units: 260 spread across VIP area of 6 Screens
Award-winning boutique cinema, Roxy Cinemas have just opened their fifth location across the city of Dubai. Located inside Al Khawaneej Walk, the trendy and contemporary neighbourhood mall which opened up to visitors in September of last year. The Mall offers a vast selection of retail, Food and Beverage, leisure and entertainment choices for locals to enjoy. Since the opening of Roxy's largest boutique cinema, it has received an excellent response from moviegoers, described by one as "the best cinema experience in Dubai". Visitors can expect to receive exceptional service, whilst experiencing the latest in cinematic technology. The cinema boasts 4K laser projection and Dolby Atmos immersive sound and the latest in wireless charging technology.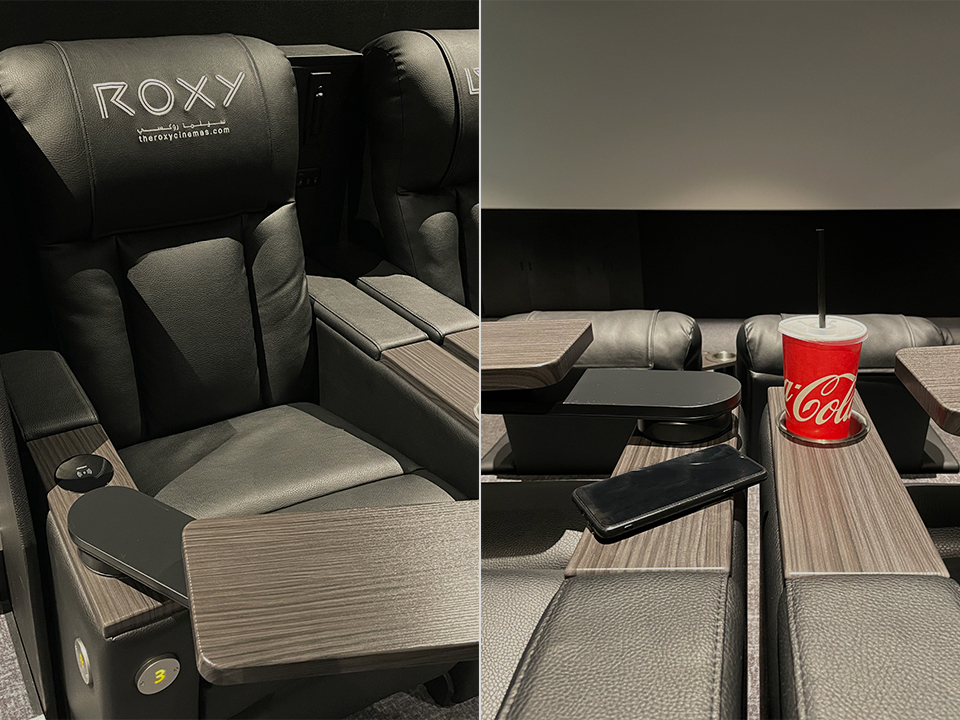 Much like the Roxy Cinemas Friday brunch that offers a meal, bottomless drinks, bottomless popcorn, and access to two movies, their facilities are the full package too. Guests can enjoy premium heated seating with three way recline and food and beverage served directly to their seats whilst topping up their device with Aircharge wireless charging as they unwind and watch the latest movies. It is also possible for visitors to hire the entire screen to themselves and family or friends to indulge in a real VIP experience.
"It has added an additional layer to the intimate experience that we so proudly offer, at a moment in time where people rely so heavily on their smartphones for a range of services such as digital payment, calling cabs, and more," Says Angella Tchilinguirian, Director of Marketing and Digital at Roxy Cinemas "We have peace of mind knowing the Guest has left us with a full battery to pay for items around the mall, get directions home or call a cab should they need to."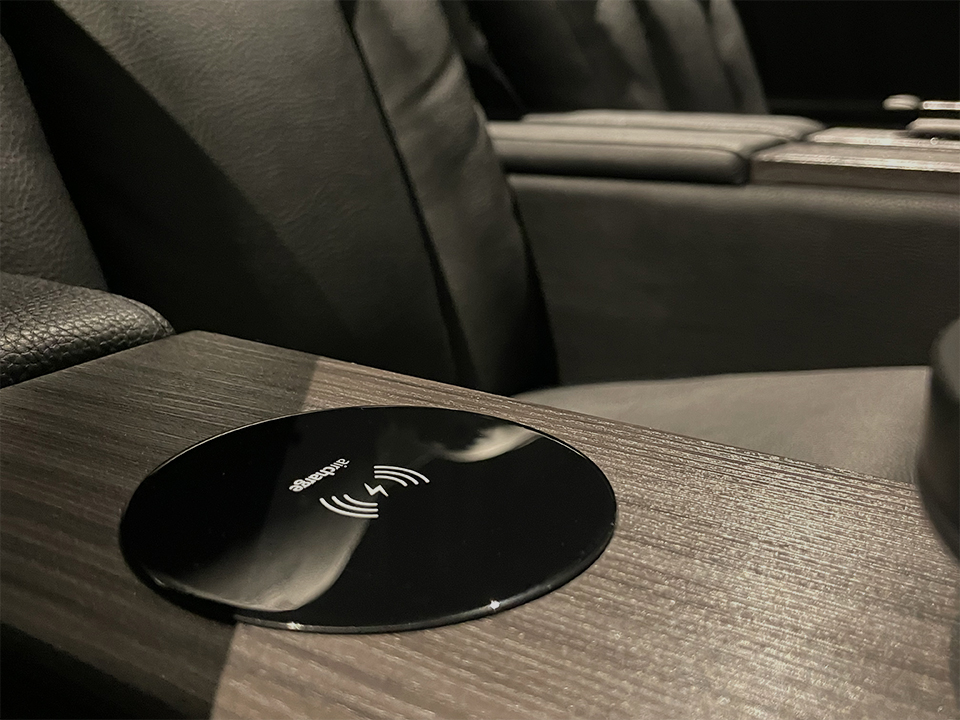 Aircharge worked with Roxy Cinemas to understand the best solution to suit their needs providing a vast choice of material and colour options. Roxy cinemas opted for the black gorilla glass charger that sits flush in the armrest of the seat. The chargers are deployed in the arms of the VIP seating areas across all six screens of the cinema. The install required an 80mm grommet hole drilled into the armrest with the power lead routed underneath the seat.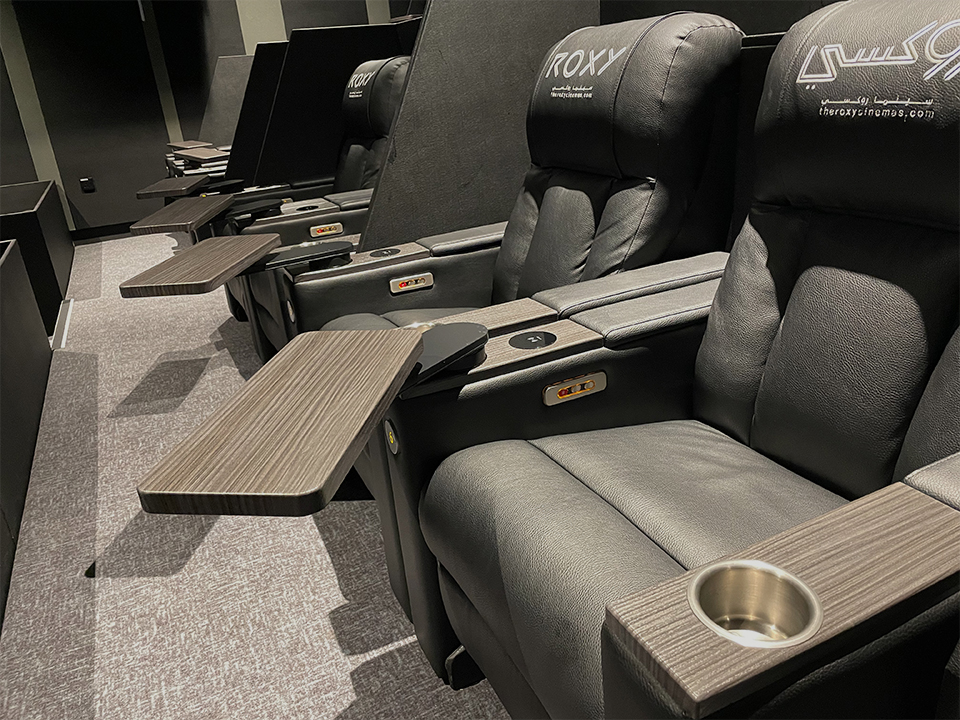 Customers with a wireless charging enabled device, tablet, or other Qi-enabled accessory can drop their device on top of the charger to power without the need of plugging it in with a cable. This simplicity and convenience to receive power is particularly useful in a setting such as a cinema with little to no light. No more distracting other movie-goers with your torch whilst trying to fish out cables.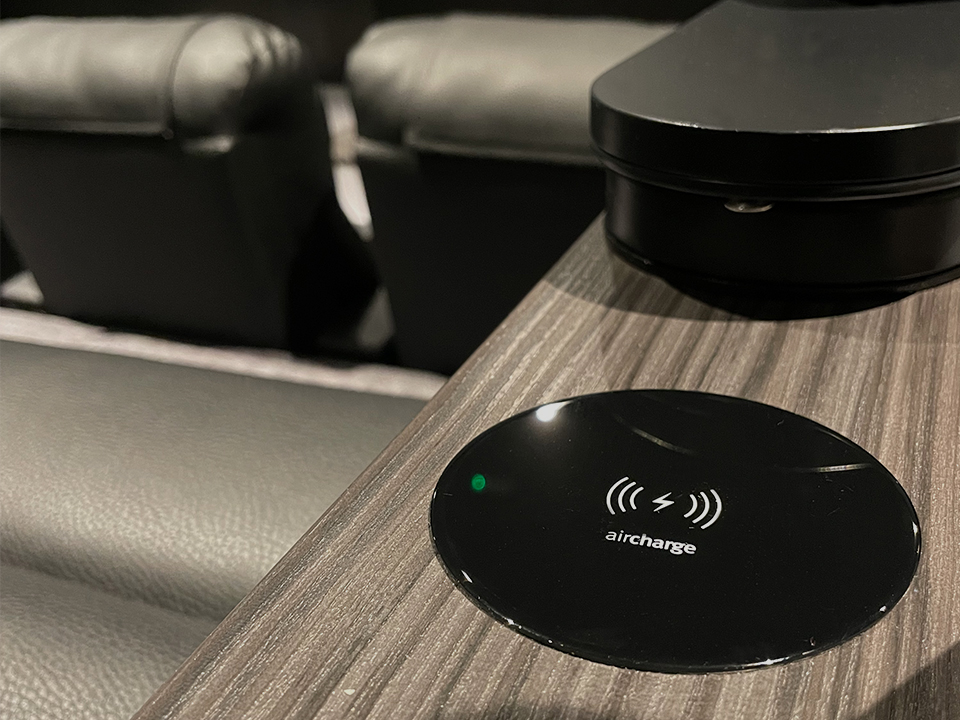 The minimalistic design of the black gorilla glass Aircharge unit creates the perfect contrast against the seat's armrest without compromising on the visitors comfort due to its countersunk nature.
About Roxy Cinemas
Launched in January 2017, Roxy Cinemas is an entertainment concept developed by Dubai Holding Entertainment. Located at The Beach opposite JBR, City Walk, Box Park and the latest location of Al Khawaneej Walk. Roxy presents the latest blockbusters, art-house movies, documentaries and special events and features a diversity of seating classes that suits the discerning tastes and preferences of audiences. Roxy Cinemas' boasts of prime locations and a charming ambiance thus making it the perfect nucleus of Dubai's bustling communities.