Technology is what drives and supports businesses today, and inductive power is one the hot tech trends that is turning workspaces into modern, digitally connected masterpieces.
WIRELESS CONNECTIVITY IS A MUST AND SO ACCESS TO POWER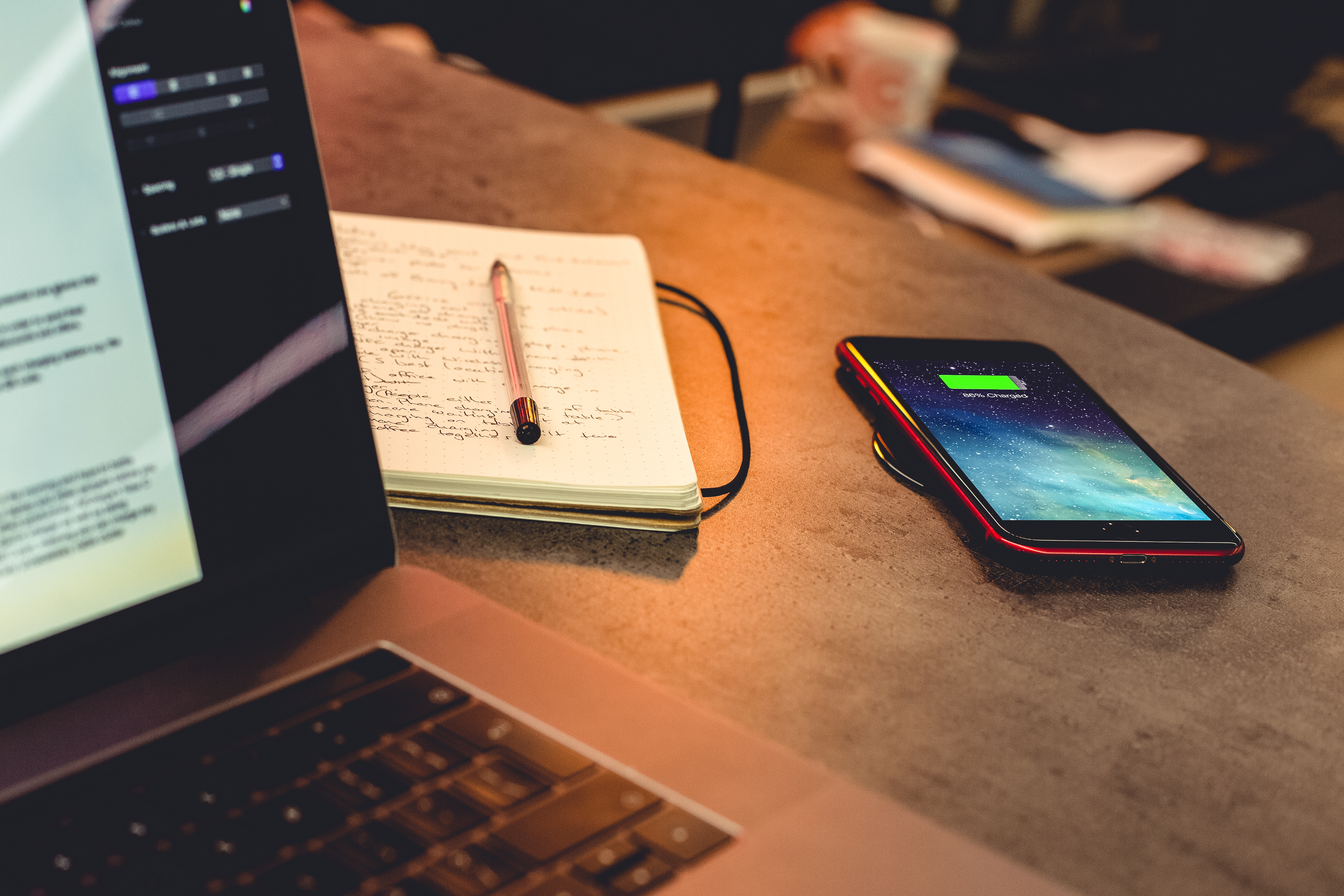 Mobile connectivity within the workspace has quickly become essential for everyday tasks. Smartphones, tablets and lightweight portable laptops are nowadays key tools for completing business and communication, allowing modern employees and professionals to switch between collaborative, common and private areas within the office and stay connected even when offsite in meetings and presentations. Based on such premises, easy and convenient access to power is emerging as an operationally critical component in the business environment.
AIRCHARGE WIRELESS CHARGING IN THE OFFICE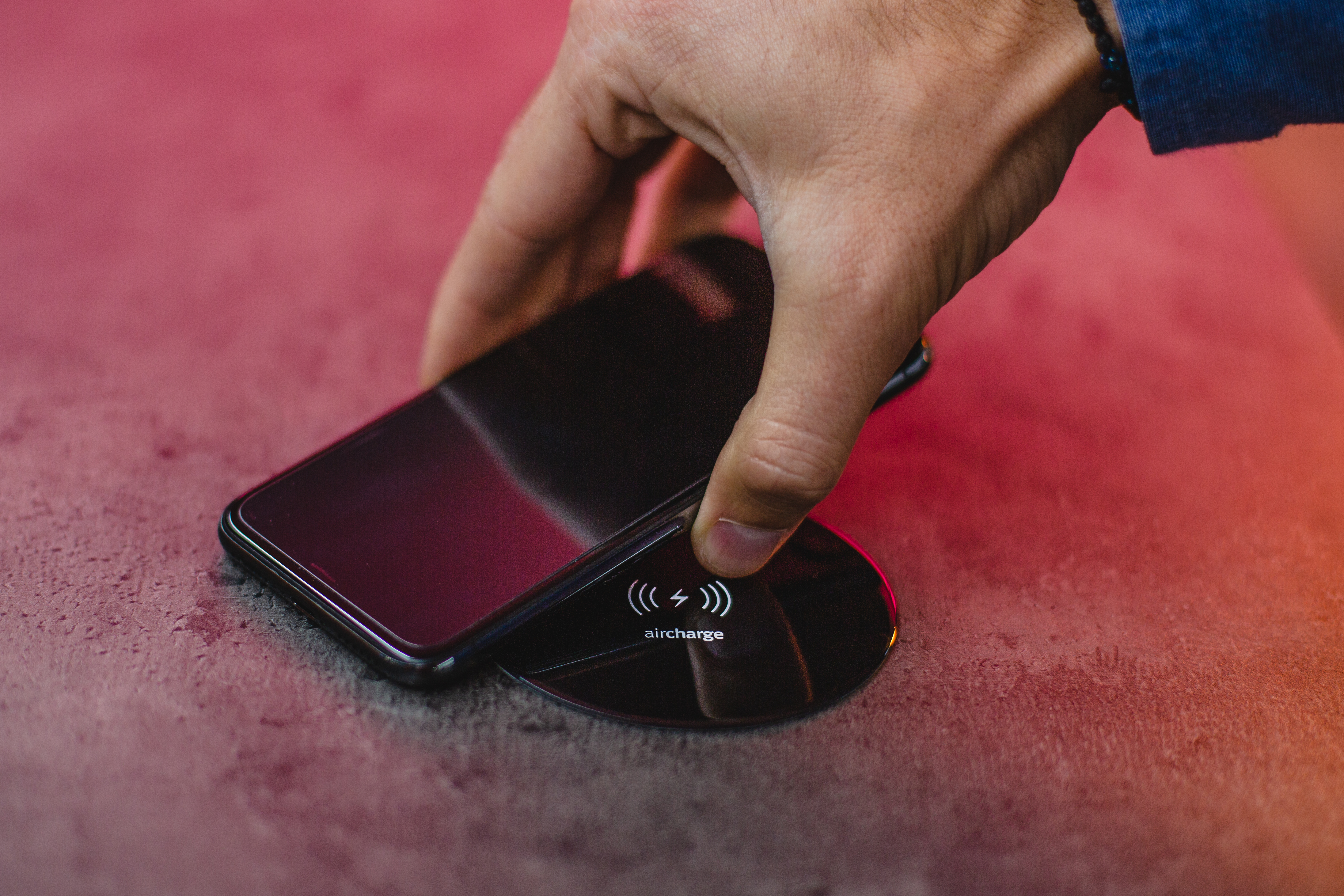 Wireless charging solutions for the office are the next step forward to satisfy the needs of an always-connected worker. Like Wi-Fi, Qi wireless charging is now a universal standard which can be found in over 150 devices from major manufacturers including the latest Apple iPhone, Samsung Galaxy, Huawei, LG, Google Pixel, Nokia, Motorola and more (check our compatibility guide to learn which smartphone models offer wireless charging).
In addition, smartphone brands have also started integrating the technology into accessories like the latest Galaxy Watch Active and Galaxy Buds from Samsung, 2nd generation AirPods from Apple, or Pixel Buds for Google.
Incorporating wireless charging into the office environment ensures employees are always connected and that their productivity never slows due to battery levels, no matter which area of the office they are working from – private desk, meeting room, breakout areas, etc. It also provides better flexibility and ensures that the workplace as a whole is optimised.
A SLEEK AND SIMPLE SOLUTION TO ENHANCE OFFICE AESTHETICS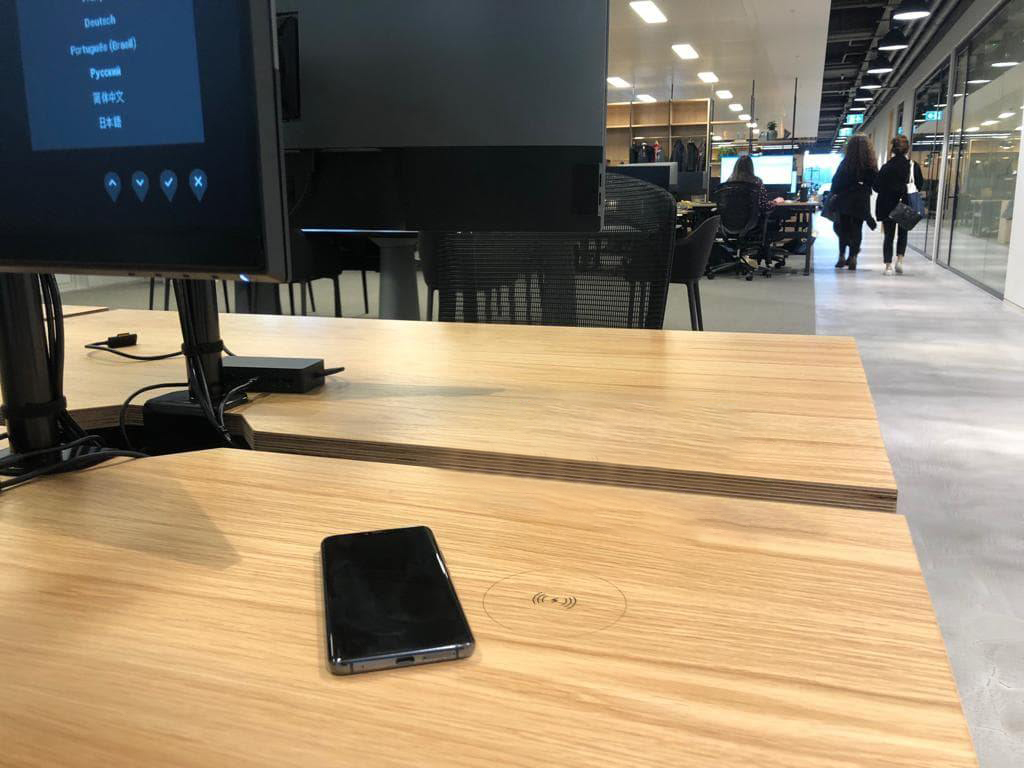 Aircharge is a pioneer in offering inductive charging solutions for the workplace, which are sleek and simple and seamlessly blend into any piece of furniture and in the office environment. A typical Aircharge wireless charging point integrates seamlessly into office furniture, including desks, conference tables, booths, pods, soft seating, etc. acting like a coaster for your smartphone and charging while in contact with it, meaning you could be constantly topping‐up the battery without the need of a plug or cable.
ELIMINATE CABLE CLUTTER
The amount of wires utilised in the office is reaching a critical mass, creating an unnecessary amount of clutter. With this image in mind, it is easy to appreciate the impact Aircharge wireless charging could have not only on office aesthetics, but also and more importantly on the health and safety risks associated with excess wires and direct access to AC sockets.
HIGH POWER CHARGING MODULE FOR PHONES AND LAPTOPS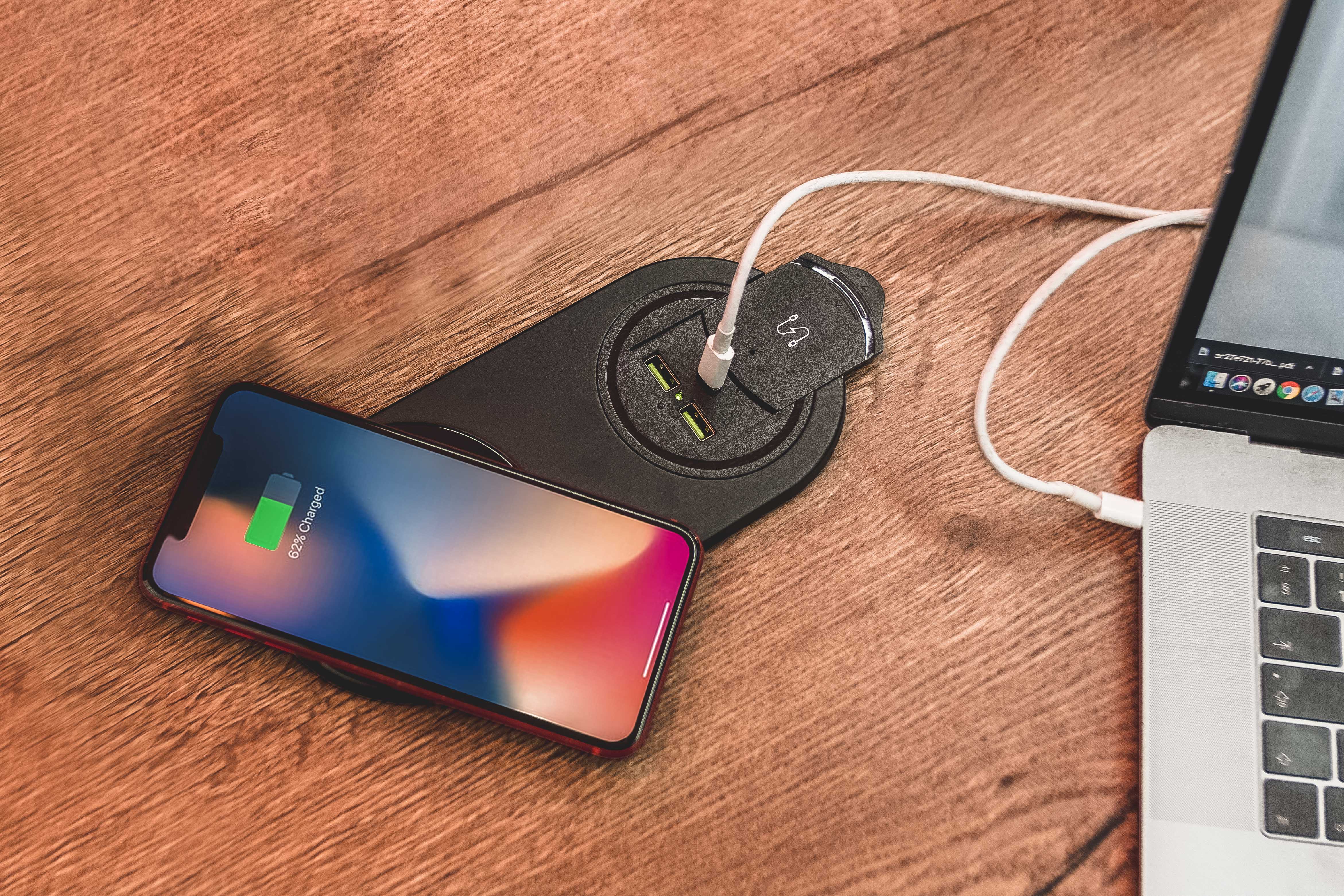 Aircharge is set to announce a new high-power desktop module specifically for the office which combines the benefits of Fast wireless charging with high-power 65W type-C charging. Installed into a 1 single desk grommet and powered via the a single power source, this solution will allow you to power up 4 devices simultaneously including a laptop, without having to access an AC socket or having to carry a traditional brick charger).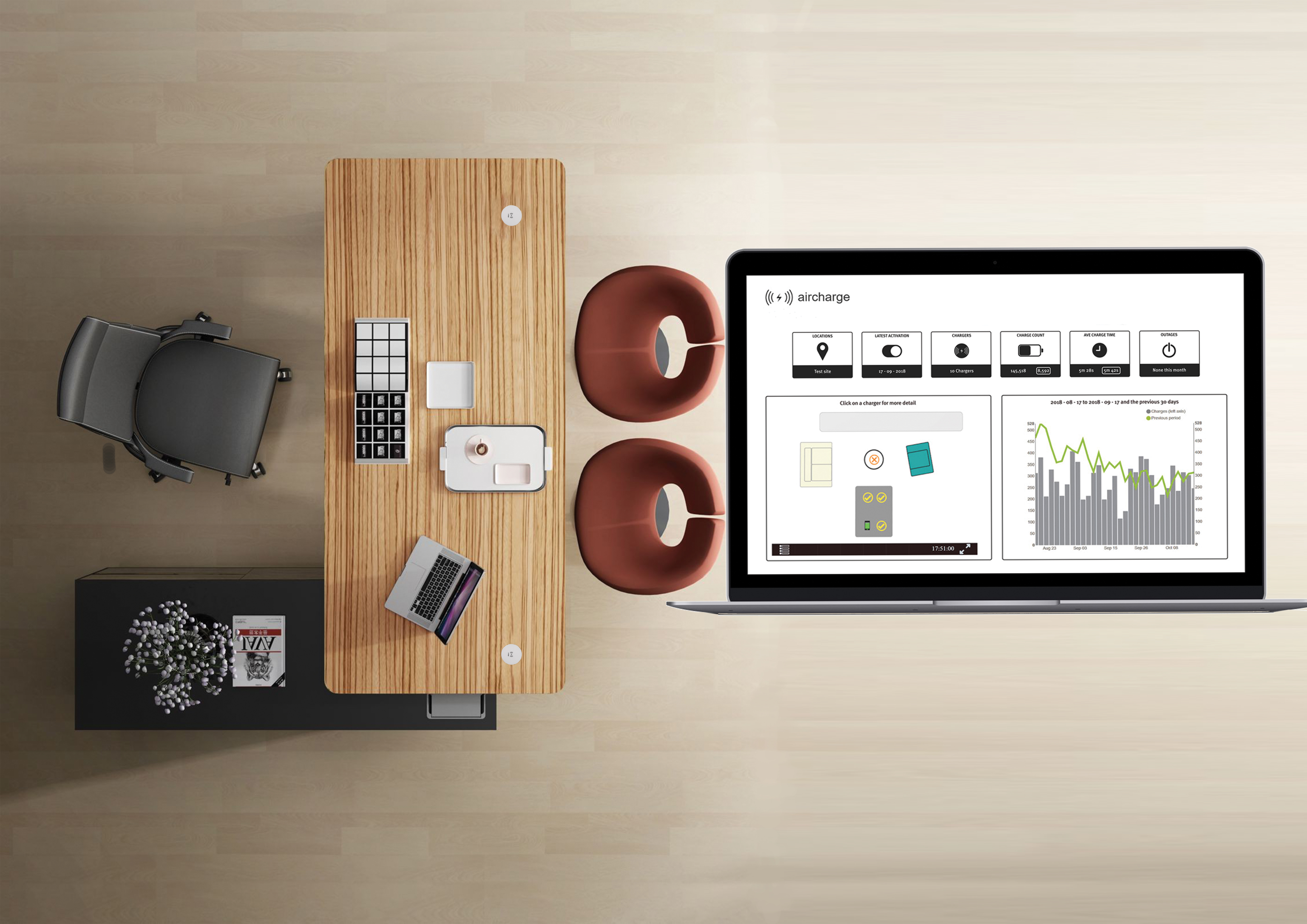 Smart buildings are generating huge amounts of excitement as they have the potential to significantly improve systems management, reduce energy consumption and much more. This is underpinned by the growing network of connectivity between wireless enabled devices – otherwise known as IoT.
The Aircharge wireless charging solution is supported by a cloud‐based IoT platform that can play a pivotal role in allowing corporate IT and facilities managers to monitor and control elements of the workspace remotely – for example room usage and desk occupancy, and to offer the possibility for integrated services like user authentication, or mapping space usage and user location in a venue to create an intelligent and responsive working environment.
SMART SERVICES & DESK/MEETING ROOM BOOKING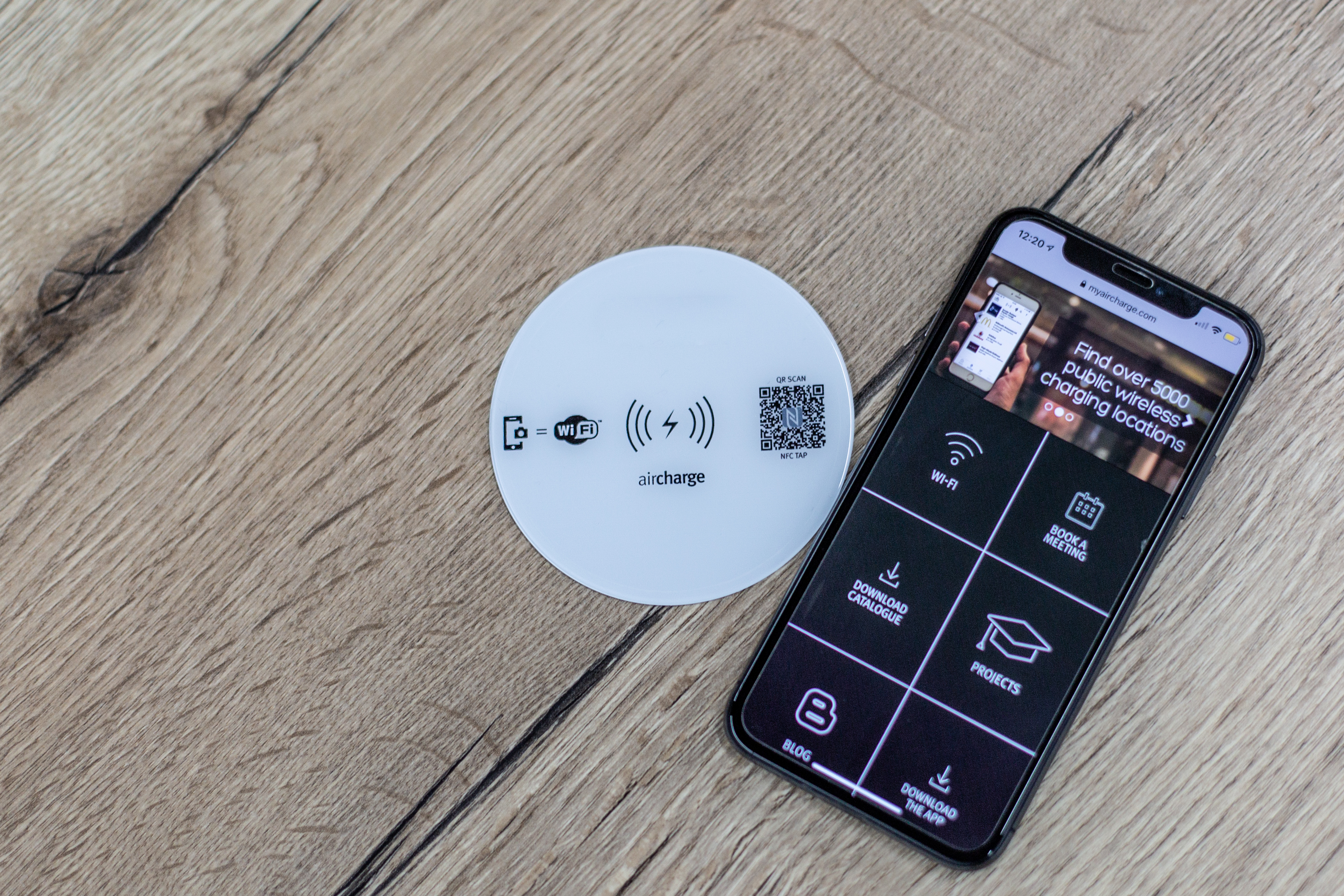 When used to its fullest potential, Aircharge can provides access to integrated mobile services including Wi-Fi connectivity, screen mirroring, and meeting room/desk booking via our unique NFC/QR code activated web-based app.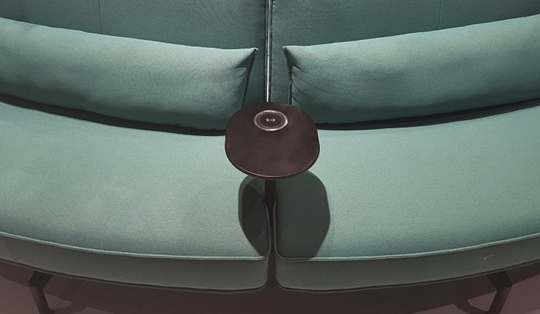 WIRELESS CHARGING OFFICE FURNITURE
Aircharge works with premium manufactures in the office furniture sector including Vitra, Senator, Boss Design, and many more to deliver beautiful designs integrating the latest wireless charging technologies.
To learn more about Aircharge wireless charging for the office, click here or contact us directly…: Thomas@Air-Charge.de – Mobil +49 171 81 68 114 – Partner Germany Austria Switzerland